Saints & Seahawks
I've been looking for a lot of fancy schmancy words and in-depth analysis to convey my feelings about the outcome of this re-match but in the end I can only say that The Saints are totally fucked going into this one.  The Saints will not incur the same shellacking they took on their last trip to Century Link field but they will lose.  Sorry Saints fans but a win in Seattle S'Aint happening.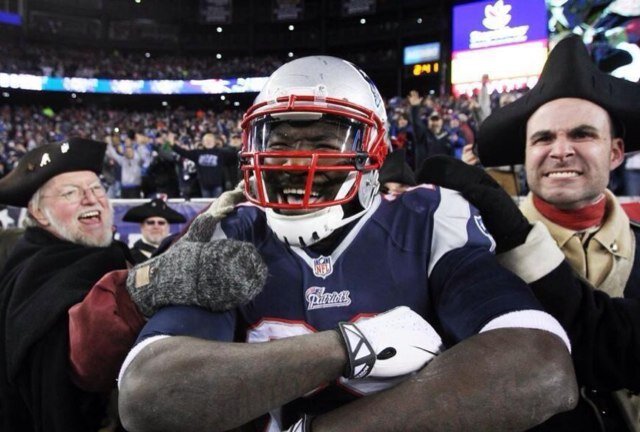 Pats & Colts
That was one goddamn impressive comeback Andrew Luck & The Colts pulled out last week but as impressive as it was The Chiefs did lose their star running back and his back-up and let's get serious here – they gave that game away.  The Colts had one offensive weapon to lean on in T.Y. Hilton and The Chiefs just him catch everything thrown his way.  Seriously, why didn't they double team him?  No other player was going to stretch the field.  They were up 28 points and all they had to do was take away the one big play threat but instead they opened up the brothel and said, "buy one, get one free but we'd appreciate if you only bought one."  Goddamn KC!
Giving The Pats a week off to prepare for this one is like giving a University Prof a reason to fail you.  They'll take that deal every time.  The Pats have their weaknesses but they've found a new identity with RB LaGarrette Blount. They'll pound the ground and mix it up with crossing patterns and slants aplenty.  Tom Brady is pure money in the post-season and I would be shocked if they didn't put forth an impressive showing.  It's what they do.  The Colts were lucky to squeeze by last weekend but Brady & Belicheck are too smart, too savvy and too experienced to make the same mistakes as The Chiefs.
The Colts and Luck seem like a team of destiny but their destiny won't be fulfilled this year.  It will be another year when the likes of Manning and Brady have hung up their cleats and called it a day.  Pats won't win easy but they'll win and move on to another classic Brady & Manning hoedown of a showdown.
9ers & Panthers
Oh boy, of all the match-ups this weekend this is the most perplexing.  They are both so evenly matched it's like Rocky vs. Thunderlips, Round 2 and if you don't know what I mean by that reference than you haven't lived or watched enough movies, Man!  It's going to be some epic bullshit I tells ya.  The Panthers won round 1 but The 49ers and Cpt. Kap are thriving and have Crabtree back as a weapon.  The 9ers were impressive last week playing in near Absolute Zero against The Packers but it was The Pack and they are not the same team as The Panthers.  Carolina has one of if not the most dominant D's.  The 9ers aren't exactly an offensive juggernaut so I can't see them lighting up the scoreboard but neither will Carolina.  Man oh man, I just don't know.  I feel like I gotta chose between a never-ending Indian rug burn or punch in the sack!
If this were a few years from now I would be picking The Panther but this is their very 1st playoff game with Cam at the helm and experience plays a big part in these sorts of things.  As much as these guys are professionals and have played in big games before it just isn't quite the same stage as The NFL playoffs.  The 9ers have the experience and confidence to go toe to toe and win on the road.  I believe they will and will move on to, what seems like, an inevitable match-up with Seattle in Seattle (where they, like New Orleans, are totally fucked).
Chargers & Broncos
I should have and wanted to pick The Chargers last weekend but I sided with a ginger on his home turf and when you run with The Devil you reap what you sow.  It was The Chargers near loss to The Chiefs 2nd stringers in Week 17 that threw me for a loop because other than that, they've been Grits 'N' Gravy over the past 5 weeks.  They've been in playoff mode for a while and from what I've learned over the past few years it's that a team in playoff mode weeks leading into the playoffs is a team to be feared.  They just operate on a different level.  Maybe it's the transition from desperation to confidence that gives them the edge?  Who knows for sure?  They're going back to Denver where they put the hurt on The Broncos and handed them their only home loss of the season.  It was an impressive victory and I don't see The Chargers taking a dive and shitting the bed at this point.  They are a hot team that can throw, run and play tough D.  They are not one-sided and seem to be a team that beats themselves more than others beating them.  That's a lot of beatin'!  No one, least of all The Broncos, wanted to see The Chargers in the playoffs.  Of all the teams in The AFC The Chargers, in my opinion, are the only team that can beat The Broncos on their home turf.  I like their chances.
The Broncos are coming off the bye so they'll be well rested and looking to avenge that loss.  Some teams come out cold with the week off but I don't think The Broncos with Peyton Manning are that team.  They'll be prepped and ready to bring the ruckus.  If they can mange to bring forth a running game to compliment their aerial attack they have this one in the bag but if they put all their eggs in one basket with an all-out air raid San Diego will be ready and those eggs will crack and start to stink like deviled egg farts!  Ever smelt those before, folks?  They smell like, well, deviled egg farts.  Not much more to say if you know what I mean.
I find it hard to believe that The Broncos will lose two games at home against San Diego, especially in a game for all the marbles.  It's gonna be a close game but Peyton will impress and move on to The Conference finals.  He's no ginger.